French Student Courses in France at Summer Leave
Read all about our French School based in France! Suitable for High School & Grammar School - Gymnasium Students (Ages 13-17):
How do you motivate young teens, teenagers or students to learn and speak French?
To make it possible, first focus on proficiency - skill - ability - know-how - talent - competence - capability - efficiency - technique. The less the teacher speaks, the more the students develop! Encouraging students to speak French will give them more and more confidence, as well as increase communication. This motivation can be seen in most French classes around the world; High School - Grammar School - Bachillerato - Gymnasium - Abitur - Maturita - Certificate of General Secondary Education all aim to create a French-only classroom.
The first step toward teaching students to learn and speak French well, is understanding proficiency. Great French language teachers comprehend proficiency levels and teach their motivated students about them. Once proficiency is the central focus in the classroom, grammar no longer applies; communication does. Spending time in the French classroom using all modes of communication, such as interpretive, interactive, interpersonal and presentational is important. Although, interpersonal and interactive skills should be the main emphasis. To achieve this, the teacher must get out of the way and keep a low profile. If the French teacher is always speaking, the students don't try! For students to be motivated and achieve the communicative practice they need, the solution is simple: The less the teacher speaks...the more the students do. French teachers who are most comfortable with student-centered classrooms, see the best linguistic results.
In a French language classroom, students should be talking more!
It's like an Algorithm process, by creating a favourable French learning situation in the classroom. First evaluating, then analysing, then applying, then understanding and finally remembering. A great French student course tip is to promote pair work between two students of the same level and motivation. Broach interesting topics that allow students to use the French vocabulary they are learning or have learned previously. Include topics such as their previous excursions and visits to the beaches in Saint-Raphaël. Or, their visit to a supermarket to get some sweets and chocolate, their conversation when they paid the purchases, how to thank the French host family after their evening meals. For all students, whether they are learning French as their first language or an additional language, French is a vehicle for learning. It is through language, that students access the content of the Summer course and communicate their ideas. An example of fluency, proficiency and easiness in the learning process of the French language could be once a week singing a French song, sharing the lyrics, underlining the message of the song, looking for verbs and nouns. This allows students to identify instruments and new, unknown words. If you wish for your children to attend a French Suumer course for students, this is just some of the ways we adapt our lessons.
Read about our French summer courses for Students in Saint-Raphaël, France.
Our French language school is an international hub for students from all over the world. We offer French summer courses which are ideal for boys and girls in High School or in the European Gymnasium who wish to improve and develop their skills in the French language. Our teaching is done in a natural outdoor environment, settled on the beautiful French Riviera. We have hostel and boarding accommodation available with local French families who will continue the language competency after class. We also try to organise get-togethers with French teenagers from the town to help boost our student's language skills!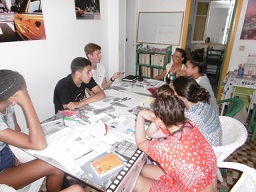 An indoor French class with for the teen group with Christine, the teacher summer 2019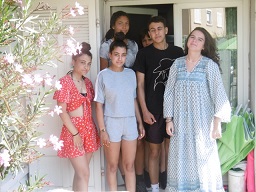 Some teens of the same classroom on their way to the garden during the coffee-break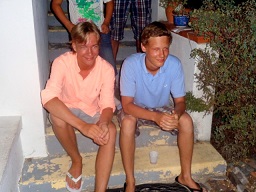 Two cousins, converging to our school . One from Helsinki, Finland and one from Stockholm, Sweden
French Summer Course Timings
2, 3 or 4 weeks 4 hrs/day- 20 lessons/week, Monday-Friday - Two teachers share the class Talented young student learning French. - Max 8 students per class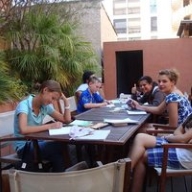 Talented young student learning French
Student Accommodation
As part of our French summer courses, we always encourage that you stay with a French family during the time period. The accommodation includes a double room with separate beds or a single room is optional too. This is an important part of your stay in France and our host families are carefully selected from many years back. This enables our students to get an enriching insight in the daily life of the French, their manners and customs. You will be treated as a full member of the family but with the obligation to follow the rules of the home.
If you are a student aged between 13 to 17, there is also lodging in the Youth Hostel as described in the link Lodging. Rooms are shared, plus breakfast and dinner seven days a week is included. This is the same pricing rate as with a French family. The hostel is also where some of our French courses take place!
Meals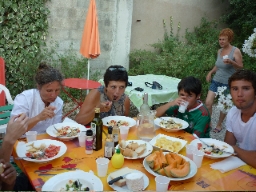 Seven days a week, breakfast and evening meals with your host family or in the hostel. If you choose full board, you will have lunch with the school, Monday - Friday.
Dinner at the Boarding House in the garden. Excellent food
Recreation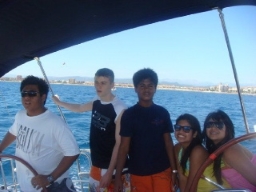 Social and cultural activities are organized in the afternoon for our French learning students. Activities include visiting the beaches with a volley-ball. Roller-blading on the sea front promenade in St-Raphaël. Water-skiing and sailing at the Club Nautique. Diving for both beginners and advanced divers under professional supervision. Golf, tennis and windsurfing are also included in our programs at special reduced rates for our students!
Family sailing with a rent-a-boat outing & happy children
Instruction
Two different teachers will share the morning lectures. One before the coffee break and another afterwards. One is multi-lingual in order to speed up the understanding of French grammar. There is a French intensive practice in "role plays" between the student and others in the class. Our French learning students are encouraged to speak as much as possible; verbal skills are developed through practice!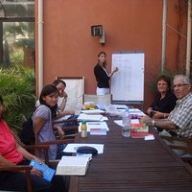 Morning session in the garden with Sophie in charge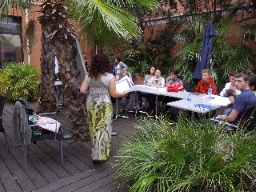 Young student group in the garden w/Nathalie
Pocket Money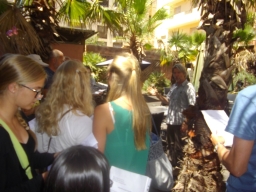 Can be deposited with the school and will then be distributed to the student once or twice a week according to the wishes of the student / parents.
The amount can be transferred to our school bank account, at the time you pay for all the fees.
Young students from different countries, rehearsing a French song with Pascal.