Accommodation Arranged by French Language Holidays
With the arrival of the world wide accommodation Agency Airbnb , dramatic changes took place those last years . More and more people rely on their offer because they guarantee systematically WiFi connection and air conditioning A/C ..Two service previsions almost standard today and mandatory during hot summer holidays . Booking options you can make yourself without our assistance
Arrangements can be made for those who wish to live with a French host family that offers varying accommodations from a single room or double room wt half pension, to an entire flat with complete family privacy. Those who prefer hotel accomodations can choose between a hotel room of different stars from ** to **** or a modern efficiency apartment sleeping from 4-6 persons. Shopping facilities abound and the majority of these accommodations are within walking distance of the school. The important thing is to make your arrangements early so that there are possibilities for choice. The Riviera's accomodations fill very quickly as the season approaches.
Please keep in mind that all the above mentioned lodging facilities are provided free of charge, at cost by the school. This service requires a great deal of work but earns nothing for the school. We do this with pleasure just to make your visit with us free of hassle and irritation - just imagine having to book your own accommodation at a French host family , via the phone or internet where the renter cannot speak your language - and to obtain for you clean and pleasant living accomodations at the price you can afford. This at-cost service also applies for lunches with our teachers, our excursions, sports activities . Our reward is only from the tuition fees and your satisfaction with our school.
NB: All the self catering Family Apartments are available when at least two people register into our French courses for a minimum of two weeks. ... We do that because we only have a limited number of such apartments with a reduced rent compared to the Airbnb .. because we have known the owners for many years ….
Accommodation In French Families Family Boarding House For Youth & mothers with small kids
Independent studio w/private bathroom and toilet Self Catering Family Apartments
Accommodation In French Families
Three examples of French homestay , both very close to our classes. We have a few other host families, also very close to our school. All very nice and responsible ... Otherwise we wouldn' t keep them !

A nice lady, living alone in a large apartment, familiar and used to welcoming foreign students and who loves it since many years Halv pension, breakfast & dinner, and help with homework in the evening since she has experience in teaching French and other languages. Apartment with all facilities, two individual bedrooms at disposal , living room, kitchen, bathroom ,separated toilet, WiFi connection Large private swimming pool for all residents, garden with green plants and flowers, 1500 meters from our school. Bikes arranged when needed. 126 Blvd Remi Belleau 83700 Saint-Raphaël (See on Google Maps)

Another French host family, in a very quite residence without local traffic . An elderly widow , very gentle and nice active in different associations, very talkative, convenient for you who want to practice French . Single or double room . In a beautiful park with only the sound of the cooing of doves. Located on Avenue de Verdun.
Family Boarding House For Youth & mothers with small kids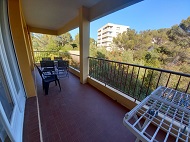 Located in a large house with a garden, 300 meters/yards from the school.Max 8 youngsters and moms with kids.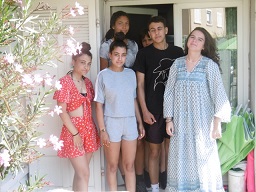 From different countries share this house under family supervision.Extensive freedom is given under the day but there are strict rules at night for the Teens.Very good food.The proprietress is very responsible and outspoken.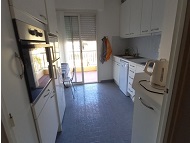 She is also one of our substitute teachers and knows both the pupils and their shedules.Unlimited access to ADSL Internet is available so to keep in touch with your Family and with friends.Free of charge.Single room available for extra fee of 3 Eur/day.Please, tell us when registering.
Self Catering Family Apartments

A top modern self catering apartment with all the commodities, around 60 m2, bedroom, living room with extra coach, bathroom, separated toilet, WiFi, 5 min walking distance to the beaches, to the local shopping shops with grocery store, located in Boulouris, the elegant suburb of Saint-Raphaël. On the third and last floor of a beautiful building with elevator. Two separated terraces on each side of the apartment, total surface of 25 m2 and with splendid view over green spaces. A own or rented car is a necessity 3 km from our school.
Catering Family Apartments

A nice , cosy and self catering apartment on the ground floor of a villa, with a huge garden and swimming-pool in the residential and elegant area of the town.Two bedrooms, one for the parents and the second for the children with a bunk bed + an folding sofa . Suitable for 3 kids ..Bathroom and laundry facilities ... Outdoor terrace for your evening meals . Next door,large room for access to French TV programs for the kids in agreement with the hostess ..The whole family has unlimited access to the swimming pool ...WiFi access . About 2 km from our classes. A car would be needed Located on Avenue Edouard Herriot.
Another Family Apartment

With two bedrooms, one with a large double bed for the parents with TV , the other with two large double beds for the children.
Suitable for 5-6 people, Kitchen, bathroom, separate toilet, balcony for your meals, on the first and only floor and as an extension of the main house , large garden with view from the terrace / balcony. The hostess invites often their summer guests different vegetables from the garden . Private entrance . WiFi access with code . No air conditioning but large fans in all the rooms Located on Boulevard Ampère. 3 min walking distance to our classes , 10 min to all the shops and to downtown. Totally renovated last spring 2018. With all modern appliances and commodities.Located on Boulevard Ampère, Saint-Raphaël
Another Family Apartment / Studios

Three large studios in the same house, shown in the below picture - one family apartment, suitable for 5-6 people with all amenities - two smaller studios, suitable for 2- 3 people with all amenities All of them, on the ground floor of the house, common laundry in the garden + barbecue equipment The big house, with the brown / ocher facade, behind the palm tree …Very quiet and no traffic nuisance Car parking facilities in the garden behind protected Gate. 5 min walking distance to our classes on avenue de la Marne and 5 min to downtown with all supermarket facilities … 10 min to the beaches ….
Price Examples
will be given when we answer to your inquiry …There are not standard fees …. Each housing has it's own rate ….