French Language Holidays Teaching Methods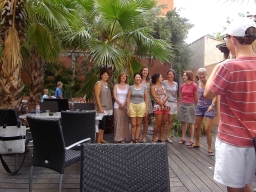 A happy group on the terrace with Christine.
Our instructors are native speakers and certified teachers. A number of them teach abroad during the academic year.All have a considerable experience in teaching French as a foreign language. Our goal is to create a lively classroom environment through the active participation of the student throughout lessons by prioritizing verbal skills. We teach you to communicate in French as rapidly as possible through role playing, verbal presentations and practical conversation. Although the student is encouraged to speak as much as possible, we do not neglect reading, grammar or enunciation. The teacher listens and corrects.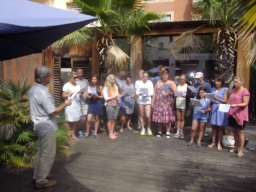 Several groups singing French songs with Pascal in charge.
---
A Student's Typical Day - Monday to Friday
9.00 AM - 12.30 PM: French language classes including a half-hour break.

12.45 PM - 2.15 PM: Lunch with the teaching staff.

2.30 PM - 4.00 PM: For those in the intensive course, instruction in small groups.

2.30 PM - 5.00 PM: Beach activities. Lessons in golf, tennis, windsurfing, aerobics, etc. Half-day excursions, horseback riding, roller blading...

After 7.30 PM: Dinner with your French family or with fellow students followed by leisure evening activities, theater, and coffee meetings with teachers as from 10 pm on the terrace of a cafe on the waterfront.

At the end of your language course, providing you attended the classes on a regular basis , you will get a Certificate of Studies and Attendances, according to the model below: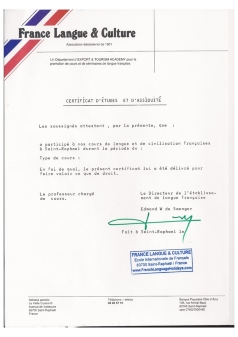 Certificate of Studies and Attendances