Summer camps in France
Teaching Method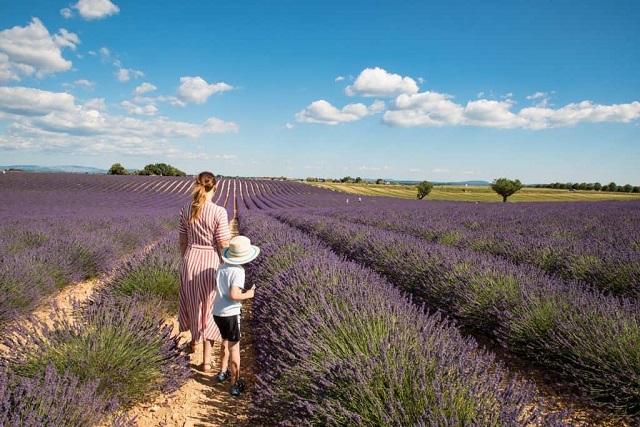 The purpose is to encourage the child to learn the ability to imitate sounds, to learn and memorize whole sentences of a new foreign language by the intensive use of French in songs, easy texts, games, theater and by memorizing words, sentences and grammatical structures.
A group performing a show
Furthermore, the child will practice the comprehension of the language by doing oral and written exercises. Priority is given to a global approach of the French language.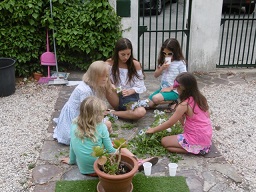 Children performing French songs to an adult audience of parents and other students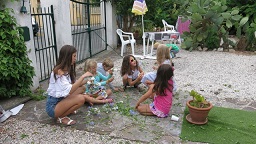 Delight and expectation of the parents attending the performance of the children
Children's Summer Camps in France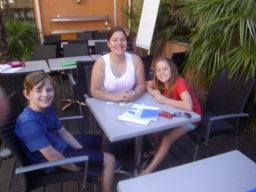 The aim of this course is to offer children (boys and girls) the opportunity to spend a linguistic vacation in a pleasant environment on the Riviera. At an early age, the child will get a good start in his/her life learning basic French while spending an enjoyable and enriching holiday in the same school and same town, together with their parents.
Two young Canadians children, almost fluent from B.C. with their teacher Cyrielle
More and more Canadians children from the western Provinces , like from British Columbia and Manitoba, attend intensive classes in French in their regular English schools back home and come to our French school in St-Raphael to polish their oral skills ... That is also true in the province of Ontario!
Depending on levels in French and ages, the children will be divided into the below three subgroups:
1. Children under 6 years: who do not read or write yet. Emphasis on workshops with max 5 -6 kids- Artistic workshops: painting, sculpture, collage ..... to learn vocabulary- Game workshops : dominoes, snakes and ladders, 7 families etc ..... to acquire automation language- Round, rhymes, role play, songs .... to speak French while having fun- All these varied activities never last more than 20 minutes
2. Children between 7 and 9 years: who can already read and write .. A more classical program including the above workshops + study visits in town in stores, library , markets, cafe terraces, Cultural Center with Cyber media library, Town Hall, et.c ....Both oral and written exercises.
3. Children, 9 to 12 years, advanced in French: a now phenomenon that we have been witnessing more and more in recent years. Boys and girls from English schools in Canada, the States, Mexico or other native schools in Europe, attending an accelerated program in French and who enroll in our summer program in France, to practice and improve their oral skills ...80 - 90 % of the time in classes, will be devoted to spoken French on many various subjects ...For that purpose, your child will have an unusual talented and outgoing young French teacher with much charisma, who made a great success this summer 2014.
Schedule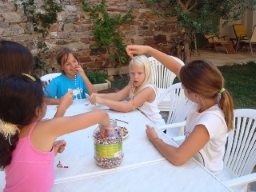 4 lessons of 45 minutes in the morning from 9:00 a.m. to 12:30 p.m. including a 30 minutes break. Monday through Friday. Whenever possible there will be participation by French children in the same age-group to insure a more realistic atmosphere in the classroom. The group will be divided into two sub-groups, ages 4 - 8 and ages 9 - 12. Five children per sub-group max.
Games " en francais " around the table under supervision of the teacher
Facilities
In the same locations as the classes for the adults. That enables the parents to meet their children every day during the coffee-break at 10.30 and creates a very family friendly atmosphere among adults and children.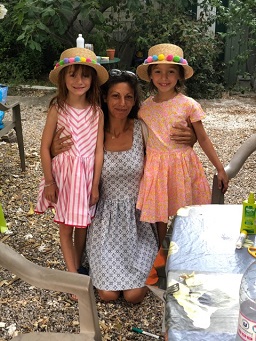 Although the groups of max 5 kids are sufficiently separated not to disturb each others, both the children and their teachers remain within eyes contact and that too creates a homy and cosy atmosphere.
The lessons continue at the restaurant while waiting for the food to arrive
Instruction
We have always at least two or three of talented young French assistants/teachers (Sanaa, Angie, Cecile, Cyrielle, Elodie) who are very fond of children. With great success they took over children's groups of different ages and different language abilities.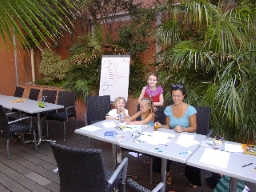 Proud children showing their diplomas at the end of their language stay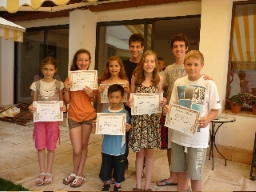 Please note that our summer program does not accommodate children with special needs. We reserve the right to cancel or refuse registration.
A lower-subgroup 4 - 7 years old
Regarding tuition for the children's course under "The Basic Course Fees, we offer the parents who are also enrolled in the classes a rebate of 60 Euros per child for a 2 week's course and 90 Euros per child for a 3 or 4 week's course for a maximum of two children.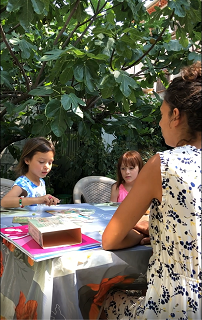 A study visit downtown to the old Tempel Order tower. A landmark for St-Raphael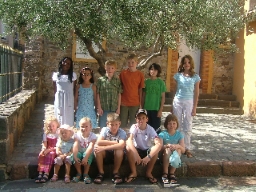 Another day kid's p
Afternoon Beach Attendance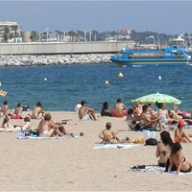 From Monday to Friday, twice a week, on the central beach in St-Raphaël, from 4 to 6 pm, one of our young French male or female teacher will activate and play with the child/children while the parents may devote their time to own studies and/or shopping in the town. This will be decided from day to day in accordance wth the parents.
The central beach in Saint-Raphael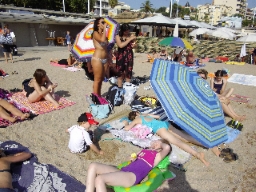 Family groups with mothers keeping an eye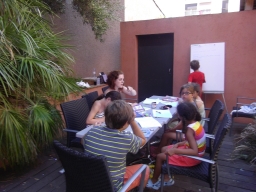 An upper subgroup with teacher in charge
---
Children's Performance at the end of their stay :
| | | |
| --- | --- | --- |
| | | |
| Here too, excited expectation and delight of parents summer 2014 on our Terrace | Children of all ages, love to perform! - summer 2014 | On the terrace of our school summer 2014 |
( Le Petit Chaperon Rouge ) performed " en francais " by children to the delight of parents in the audience : June/July
| | | |
| --- | --- | --- |
| | | |
| A scene from "Little Red Riding Hood" | The excited expectation and delight of the parents | End of the show and thanks to the audience by bowing |