Children's French Summer Camps in vacation
The aim of this French summer camp is to offer motivated children (boys and girls) the opportunity to spend a linguistic vacation in a pleasant environment on the Riviera. At an early age, the child will get a good start in his/her life learning basic French during the summer course while spending an enjoyable and enriching holiday in the same school and same town, together with their parents.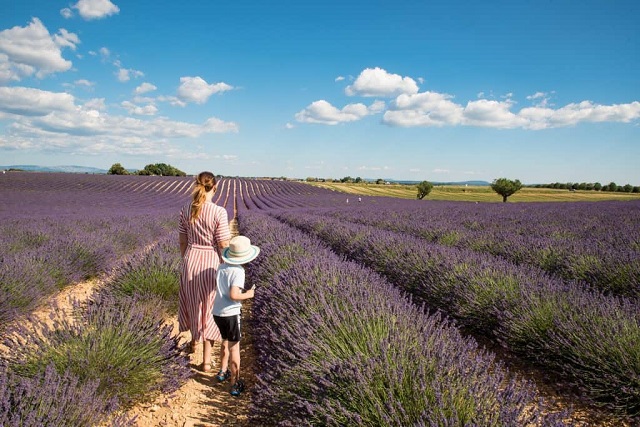 How To Help Your Child Become Motivated to Learn French
Learning a second language, like French, takes consistent commitments, effort, practice and motivation.
-Getting motivated: Remember why and your motivation will come back
"j'apprends le français parce que...je vais en vacances avec ma famille en France" "j'apprends le français parce que...papa et maman parlent français" "j'apprends le français...parce que j'ai des cousins/ cousines qui parlent français"
-Keeping motivated: Reading French children's books, to maintain their essential basic vocabulary skills.
Encourage French entertainment classes by showing fun movies the children will like. Even when they focus on the images, they will listen and get used to the melody of French words. With breaks and questions to ensure they understand and follow the story line. The children will notice that the teacher is enthusiastic about them learning French and that will motivate them even further due to loyalty, skills and emotions. Keep the motivation alive by watching French YouTube videos on an iPad or tablet, listening and repeating songs they know. Finally, suggest that the whole family goes and attends a French summer camp at our language school in St-Raphaël! The children will love that the whole family is interested in learning French and in beautiful, fun surroundings.
-Join a French class: French language classes aren't just for adults!
Our children's French summer camp offers fun classes where the children, together with parents, can take part in crafts, singing and other entertaining activities with focus on speaking and learning French for children. At our French school "France Langue & Culture", we have Baya, a fantastic and successful native French teacher for kids.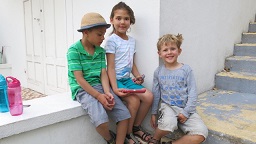 Some nice kids from Australia,(Skye & William) visiting Europe, England and France while learning some French at our school in Saint-Raphaël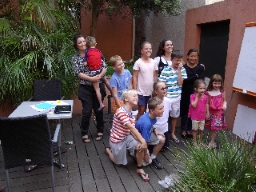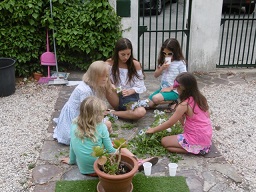 With the help of Linnea, 16 y.o, small girls are making flower wreaths for St Jean - the 21 of June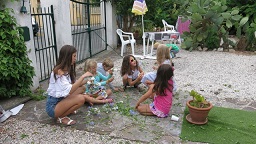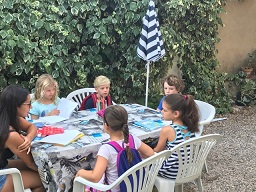 A group with children over 6 y.o learning with Laura, their teacher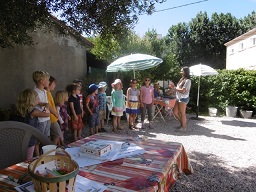 On Friday, during the coffee-break, children performing French songs with Laura, their teacher to an attentive and delighted adult audience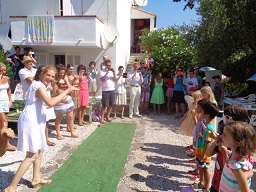 Motivated children performing French songs to an adult audience of parents and other students
Depending on the levels of their French and their ages, the children will be divided into the below three subgroups:
1. Suitable for Children between 6 and 9 years: who can already read and write .. A classical program that is both efficient & effective in learning basic French including the below workshops + study visits in town in stores, library , markets, cafe terraces, Cultural Center with Cyber media library, Town Hall, et.c ....Both oral and written exercises.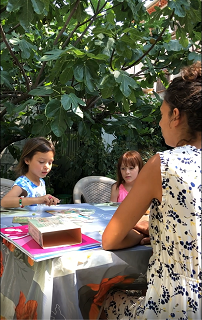 - Artistic workshops: painting, sculpture, collage ..... to learn vocabulary in French - Game workshops : dominoes, snakes and ladders, 7 families etc ..... to acquire automation language - Round, rhymes, role play, songs .... kids learn to speak French while having fun - All these varied activities never last more than 20 minutes so join our children's French summer course on the Riviera today! Ps:If you want to register your child/ children under 6 years , around 5 y.o … who already can read and write and you consider him or her as premature, you will have to accept they will be integrated in this above group with your agreement … and please note that our summer camps do not accommodate children with special needs. We reserve the right to cancel or refuse registration. Please note that the classrooms are restricted area for the parents and other adults without the permission in advance of the concerned teacher in charge . And the permission in only valid the first morning upon arrival for a short period of time … After that, the teacher in charge needs peace and quickness without interference ... 2. Children, 9 to 12 years, beginner, intermediate or advanced in French: a now phenomenon that we have been witnessing more and more in recent years. Boys and girls from English schools in Canada, the States, Mexico or other native schools in Europe, attending an accelerated program in French and who enroll in our pleasent summer kids camp in France, to practice and improve their oral skills and conveniently located on the Riviera.
Schedule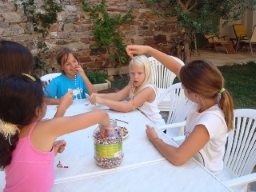 Our 4 lessons are organised into a convenient 45 minute session in the morning from 9:00 a.m. to 12:30 p.m. including a 30 minutes break. Whenever possible there will be participation by French kids in the same age-group to insure a more realistic atmosphere in the classroom. Five - six children per sub-group max.
Games " en francais " around the table under supervision of the teacher
Facilities
In the same locations as the classes for the adults. That enables the parents to meet their kids every day during the coffee-break at 10.30 and creates a very family friendly atmosphere in the camps sutiable for adults and children on the Riviera.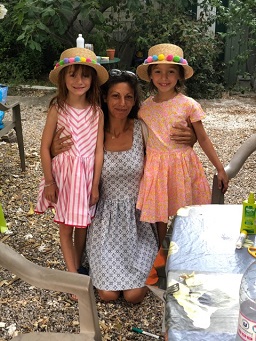 Although the groups of max 5 kids are sufficiently separated not to disturb each others, both the children and their teachers remain within eyes contact and that too creates a pleasant homey and cosy atmosphere.
The french summer lessons continue at the restaurant while waiting for the food to arrive
Instruction
We have always at least two or three of talented, young and professional French assistants/teachers that are efficient & effective in their teaching style (Laura, Dorine, Baya) and who are very fond of children. With great success they took over children's groups of different ages and different language abilities.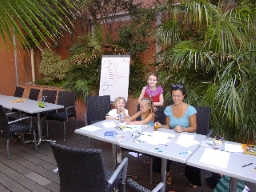 Proud children showing their diplomas at the end of their French language stay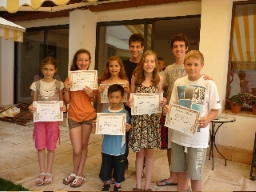 Regarding tuition for the children's course under "The Basic Course Fees, we offer the parents who are also enrolled in the classes a rebate of 60 Euros per child for a 2 week's course and 90 Euros per child for a 3 or 4 week's course for a maximum of two children.