Adult Summer Course, 4 Hours Per Day
For all ages and levels from 18 years old and up. This is the type of course which is most in demand and enables you to combine learning and recreation. You can improve your skills in French in an enjoyable setting. An ideal combination for those who want to do something useful while on vacation.
Course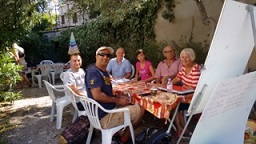 - 2, 3 or 4 weeks, 4 hrs/day - 20 lessons/week, Monday-Friday - Two teachers share the class - 6-10 students per class
Instruction
Two different teachers share the morning lectures. One before the coffee-break, another afterwards. One is multi-lingual in order to speed up the understanding of French grammar. Priority will be given to a global oral approach of the French language: to imitate sounds, to learn and memorize whole sentences, the use of French in songs, easy texts, games, theater, memorizing words, sentences and grammatical structures. The teacher encourages, provokes, listens and corrects.
| | |
| --- | --- |
| | |
| An advanced morning session with Christine in a cozy and very quiet environment | Grammar !... with Kris,very much needed ! |
| | |
| --- | --- |
| | |
| Coffee-break w/adults chatting on the terrace | People can check their mailbox with WiFi connexion |
New for Summer 2017:
A two week French Crush Session for Pure and False Beginners with morning 4 hrs in our classes and an evening happy hour session with free drinks at 6pm in the garden, to rehearse morning exercises. A special session with emphasis and priority on spoken French.
SPECIAL FRENCH TWO-WEEK SESSIONS FOR BOTH FIRST TIMERS & PURE BEGINNERS
- You are a Pure or a False/Rusty Beginner in French - You place yourself on a 0 or a max 1 level, on a scale level of 0 to 5 - You are prepared to take actively part in spoken French - You are prepared to pronounce loud and clear French words in your group - You have a good memory and remember words and sounds - You are prepared to listen and repeat French sounds from the whiteboard - You don't think and don't argue ... Just repeat the words and the sounds - You have no inhibitions and can act in role-playings - You have a positive attitude toward a spoken & demanding French session - You are in a hurry and can devote max 2 weeks in an intensive session
If your profile corresponds to the above conditions and you accept honestly to give a try and learn French: - you will attend ten morning sessions in a little group of max 6 persons - you listen, memorize and repeat what your teacher tells you to repeat in group - each morning session is divided into two-time separated 90 mn gatherings - each 90 mn-time gathering will treat a specific & practical subjet in daily life - you get a special instructor : a mix of a skilled educational teacher and a theater performer - you will be able to learn during ten mornings, whole sentences you will practice later downtown as homework - in the evening happy hour session , you will report in spoken French, the content of your day since you woke up .. - at the end of your two-week session, you will be operational in spoken French in the fields you learned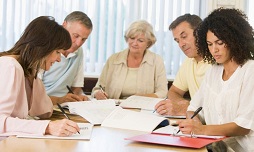 A pure beginner group with Pascal, specialized in that !.. Never more than 4 - 5 students
Special two-weeks sessions summer 2017
For registration , you use the regular registration form online or for printing-faxing of the link REGISTER, and in the section: SPECIAL INSTRUCTIONS, at the bottom of the page, you write: "SPECIAL TWO-WEEK FRENCH SESSION FOR PURE BEGINNERS" The Accommodation and leasure options remain the same. All the tuition and lodgng fees remain the same!