Saint-Raphaël Leisure and Recreation
A Friday evening, a friendly gathering in the garden of our school with teachers : Songs and appetizers …. Free discussions and free language options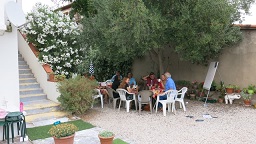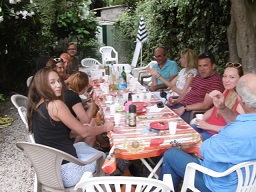 A Tuesday afternoon , a demo of
"Pétanque game" - "jeu de boules"
▼ with Edmond at Place Lamartine ▼


▲ An evening picnic on the ▲ central beach of Saint Raphael with some staff members: Paul - Meganne

 
Those students not taking a full-day intensive course can either spend their afternoons on Saint-Raphaël sandy beaches plying volley-ball with the local young boys and girls or the school can arrange either :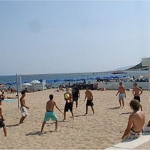 An evening encounter on a café terrace
on the Waterfront

The same evening with a relaxed mother and her son , enjoying the company / the atmosphere
Riviera Activities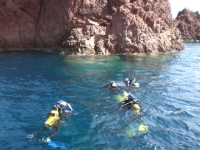 Besides golf, tennis, windsurfing and aerobics which we can arrange for you through the school's auspices, we can also organize additional activities such as squash, mountain- bike riding in Valescure, diving just off the coast at Port Santa LuciaSailing at the Club Nautique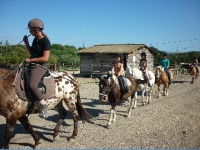 Horseback riding at the Ranch Equestre "Les Murettes" in Roquebrune, 15 kms outside St-Raphael and watch the below diaporama or the Ranch des trois fers in the suburb of le Dramont, specialized in ponies for young children.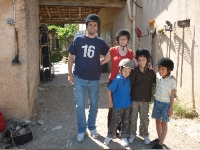 Excursions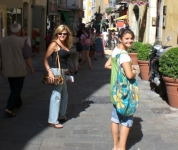 On Saturdays we have all day excursions to San Remo in Italy via Monaco or, a coastal drive to the Picasso Museum in Antibes, the Chagall and Matisse Museums in Nice and the Fondation Maeght in St. Paul-de-Vence.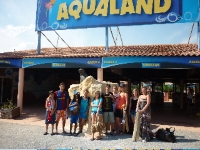 Or a visit to the Aqualand facilities in Saint-Aygulf, outside Fréjus. Cost: Whole day Euro 23, Half day Euro 15.
An exciting whole Saturday with different generations at Aqualand. You may bring along your own packed lunch. Alternative : several restaurants inside the facilities.
Full Day Excursion to Picasso, Chagall And Matisse
Introduction Course In Wine Skills And Tasting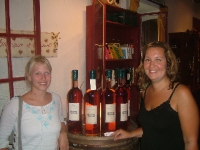 For all connoisseurs of wine. A half day in the afternoon at the winery Le Chateau Saint-Martin