Restaurant La PARENTHÈSE & Le BERBÈRE For Families, Adults, Teens & Children
Those two , are definitely the best restaurants when it comes for value for money in the whole of Saint-Raphael ...A family-run business with the parents in the kitchen and their young daughters in charge of the service.
For our families and individuals at school: On the same avenue (200 m from our school), opposite to the Lycée Saint-Exupéry
An adult, student & children friendly restaurant , serving many young students from this Lycée . Food and dishes with emphasis on the daily specials and home cooking, pizzas and many different pastas ... A restaurant where you can meet many young French boys and girls , eager to practice their " limited English "... you can easely turn that into a French conversation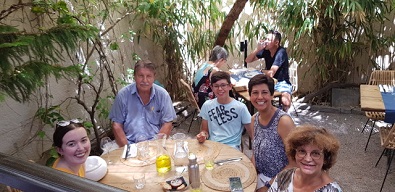 Our daily restaurant with French teachers who enliven the friendliness around the tables
Our restaurant Le Berbère with outdoor location to benefit from the constant breeze on the avenue
Menus for adults & teens students with a teacher at your table:
Plat du jour : ( daily special : different every day ) : Aïoli w/Cod fish - Paëlla with Seafood & Chicken - Salade Niçoise - Daube provençale ( a stew with beef chunks ) - or salade composé ( 10 different kinds.. ) or whole pizzas, or half pizza w/salade composée , or many different kinds of pastas ...with / without meat .. Desserts : mousse ou chocolat, crème brûlée ,tiramisu, 2 boules de glace Boissons : 1/4 de vin rouge ou rosé , 1/2 bubble water San Pellegrino Café
Menus for children with one of their French teachers at their table:
Plat du jour : 6 nuggets or steack haché or hot-dog or 2 jambon or demi-pizza or pasta bolognaise All these dishes served with : pomme frites & haricots vert or carottes rapés or purée de p. de terre Boisson : 33 cl. soft drink different kinds + 2 boules de glace Rates: - above adult menus with unlimited wine / bubble water = 85 EUR/week Mon-Fri - teen students ( 13 - 17 y.o ) same adult menus but w/ soft drinks = 70 Euro - children's menus w/soft drinks = 55 EUR/week Mon - Fri
A mixed adult & teens table with a teacher sitting in the middle
Other families, adults and young students who didn' t book in advance, are welcome to eat there from time to time ... and you pay directly to the waiter ....
But il will be a bit more expensive because your participation is outside our deal with the restaurant.
In fact, adult customers are also visit daily this restaurant .. There are many locals adult eating there for lunch : teachers from the across Lycée, workers from nearby construction sites, local craftsman and office employees ....
This place is definitely the most attractive restaurant in the city for its "value for money".
---
A little history on the French cuisine concept
source : WIKIPEDIA
French cuisine is a style of cooking originating from France, that has developed from centuries of social and political change. Nouvelle cuisine(French: "new cuisine") is an approach to cooking and food presentation used in French cuisine. By contrast with cuisine classique, an older form of French haute cuisine, nouvelle cuisine is characterized by lighter, more delicate dishes and an increased emphasis on presentation. The modern usage can be attributed to authors Henri Gault and Christian Millau, who used nouvelle cuisine to describe, among others,  the cooking of Paul Bocuse,
The two writers Gault and Millau "discovered the formula" contained in ten characteristics of this new style of cooking and identified as below :
A rejection of excessive complication in cooking.
Cooking times for most fish, seafood, game birds, veal, green vegetables and pâtés were greatly reduced in an attempt to preserve the natural flavors. Steaming was an important trend from this characteristic.
The cuisine was made with the freshest possible ingredients.
Large menus were abandoned in favor of shorter menus.
Strong marinades for meat and game ceased to be used.
They stopped using heavy sauces such as béchamel thickened with flour based roux, in favor of seasoning their dishes with fresh herbs, high quality butter, lemon juice, and vinegar.
They used regional dishes for inspiration instead of cuisine classique dishes.
New techniques were embraced and modern equipment was often used; Bocuse even used microwave ovens.
The chefs paid close attention to the dietary needs of their guests through their dishes.
The chefs were extremely inventive and created new combinations and pairings.
In our region Provence - Côte d'Azur & Saint-Raphaël :
The Provence and Côte d'Azur region is rich in quality citrus, vegetables and fruits and herbs – the region is one of the largest suppliers of all these ingredients in France. The region also produces the largest amount of olives, and creates superb olive oil. Lavender is used in many dishes found in Haute Provence. Other important herbs in the cuisine include thyme, sage, rosemary, basil, savory, fennel, marjoram, tarragon, oregano, and bay leaf. Honey is a prized ingredient in the region. Seafood proliferates throughout the coastal area. Goat cheeses, air-dried sausages, lamb, beef, and chicken are popular here. Garlic* and anchovies are used in many of the region's sauces, as in Poulet Provençal, which uses white wine, tomatoes, herbs, and sometimes anchovies ( like in salade niçoise ), and Pastis is found everywhere that alcohol is served. The cuisine uses a large amount of vegetables for lighter preparations. Truffles are commonly seen in Provence during the winter. Thirteen desserts in Provence are the traditional Christmas dessert, e.g. quince cheese, biscuits, almonds, nougat, apple, and fougasse.
Rice is grown in the Camargue, which is the most-northerly rice growing area in Europe, with Camargue red rice being a specialty.
Anibal Camous, a Marseillais who lived to be 104, maintained that it was by eating garlic daily that he kept his "youth" and brilliance. When his eighty-year-old son died, the father mourned : " I always told him he wouldn't live long, poor boy. He ate too little garlic !"
---
Saturday Cooking Classes
Our school will provide an excellent local cook who will instruct the Saturday cooking classes at a very affordable fee.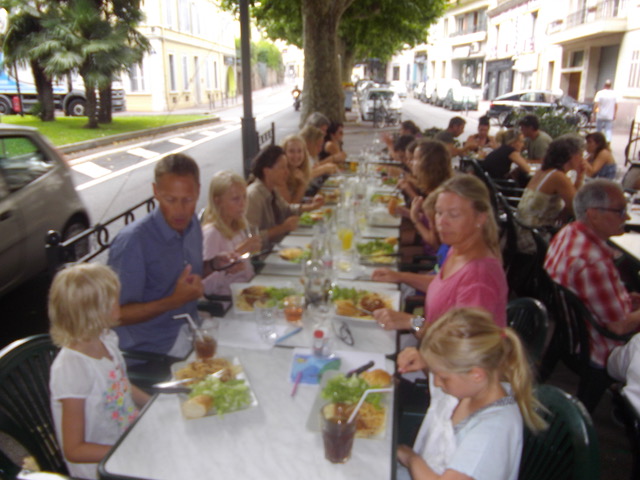 The participants will learn the French vocabulary related to food and everything you have to know when going out to a French restaurant and being able to order in perfect French! Each class will be followed by a lunch of the food prepared during the course.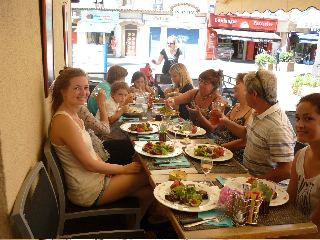 The course is limited to 4 people per session so as to give every participant the space needed in the kitchen.

Members of the Saturday cooking classwith guests and the teacher Lionel awaiting the aperitif prior to the lunch.

At the end of the course, each participant at the cooking session receives printed recipes of the menu they learned to prepare. A typical Provencal menu on Saturday :

- apéritif avec tapenades & enchoîades + pissaladière oignons - salade niçoise classique - daube provençale avec ratatouille - glaces variées - mousse chocolat - crème brûlée - vins , limonades , eaux gazeuses , café compris.

Cooking Class program : - 9.30 am: Meeting at the restaurant Parenthèse and welcome by André the owner + Patrick the chef and Florian the young waiter of the family. - 10.00 am: checking the range of all the ingredients for the cooking and preparing the dishes with the active participation of the course members. - 12.00 am : aperitif for the course members and the guests booked for the lunch. - 12.30 pm: Lunch at the same location for those enrolled in the cooking classes and their guests – You are welcome to take part in the lunch without participating in the cooking classes . A maximum of 10 persons in total is accepted. - around 2.30 pm: We leave the restaurant .Shake hands with the hosts, André , Patrick and Florian

Fees: 45 Euros per session,minimum 5 participants , lunch included for those attending the cooking class. Fees: 15 Euros per lunch for the guests and/or those just booking for the meal. Half price for pre-teens. One of our assistants or teachers will collect the names and fees on Friday, the day before the course.
| | |
| --- | --- |
| | |
| André the owner, welcomes two young ladies attending the cooking class / atelier de cuisine | Same Saturday atelier de Cuisine lunch with some guests |