Seminar for language teachers
This course is especially designed for high school French teachers in North America and Europe. If you are going to teach French classes in the autumn, you may want to brush up your oral or written skills as well as upgrade your knowledge of French terminology so as to achieve a greater spontaneity in speech, idiom and oral expression.
The group may consist at times of participants who are not teachers but students whose French is extremely good and employed in industry or government. They achieved the same results in our language test. This diversity will benefit both the teachers and the students who get more stimulation and inspiration through the experience of others.
| | |
| --- | --- |
| | |
| Beatrice checking her mailbox by WiFi! | A very advanced group in French listening to a briefing - Summer 2014 |
Course
2, 3 or 4 weeks, 4 hrs/day 20 lessons/week. Monday - Friday two teachers share the class 8 participants max per class.
Teaching methods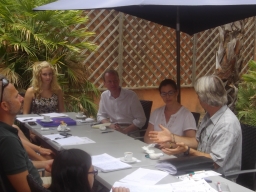 Emphasis will be put on spoken capability. Very active participation is required. Besides the special course literature that you will receive, we also use daily newspapers, magazines, role playing, discussions with colleagues from St-Raphaël as well as debates about current aspects of modern life in France.
A debate about the educational system in France compared to other countries, with Pascal in charge
A language teacher discount
Knowing that your employer and head of your regular school, is getting more and more restricted with scholarships for further education ,we grant you a discount on the tuition fees with 150 EUR per session of 2 or 3 weeks providing you are a teacher in French .. This discount will appear in our regular Confirmation we send you once you booked a course for the next summer.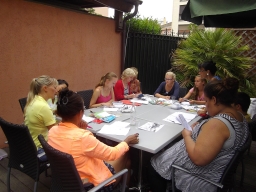 Une maniere d' aider votre budget : ainsi vos frais de cours seront de : 590 - 150 = 440 EUR / 2 semaines . Cela vous permettra d' avoir le lunch a midi pratiquement gratuit !..Cela est une facon pour nous de vous remercier d' etre un peu les Ambassadrices de la France.
An advanced group of foreign language teachers with Christine.