Off summer season French Private Tuition
For Autumn - winter & Spring 2023/2024
FOR ADULTS AND SENIOR STUDENTS:
Where every need can be taken into account. Designed especially for Industry, Government or Organisational professionals as well as for Individuals who need a private teacher because of their requirements.
COURSES :
1, 2, 3 , 4 weeks , minimum 4 hrs/day up to 8 hrs/day . Tutoring in the morning and/or in the afternoon.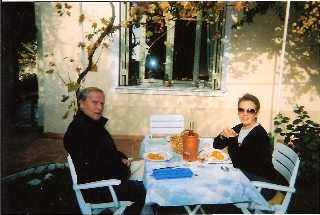 A one-on-one session in the garden during the lunch break
FEES:
For one or two students with the instructor, we apply the same very affordable rates . We even dare to say an unbeatable low rate for being classes with private tutoring !.... Once you come with an inquiry and get an offer from us, please check with other " private tutoring " language schools !
INSTRUCTION:
Targeted at those subjects where the student can get optimal benefit. There is no need to consider desires and wishes from other students . The course will be preceded by an evaluation that includes an analysis of your needs. This curriculum is very flexible and can be readjusted to your personal requirements.
All levels can be taken into account . With the correct assessment, we ensure that you learn your French language effectively :
French levels of CEFRL : A1, A2, B1, B2, C1, C2
ACCOMMODATION:
The options will be detailed in our offer, depending on your requirements:

1. French host family , single room, with breakfast only- French host family, single or double room with half pension (breakfast + dinner 7 days/week).

2. Hotels with ** or *** stars - Apartment/hotel Residence with top modern studios max 4 people. Both options with special off-season rates , around the half of the summer prices!

3. Independant Studio, with private entrance, downtown, 5 min walking distance to our classes,with twin beds, separated kitchen, separated bathroom and toilet.

Air conditioning, WiFi, very quite, sheets changed every week. Exemple with Airbnb …...

In your inquiry please tell us in advance what kind of accommodation you wish and how many weeks you have in mind . And we answer with a complete offer including tuition and lodging options.

Welcome to a rewarding and enjoyable language stay in Saint-Raphael on the French Riviera. With our skilled French teachers, eager to convert you into true French speaker at the end of you stay

Here below a list of previous participants to our off-season courses you may give a phone call in the evening.