Intensive French Language Summer Courses in France For Adults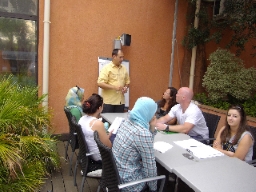 Our intensive French language courses for adults are designed for highly motivated participants and professionals. For those who want greater confidence and practice in their French-speaking proficiency. This intensive course will achieve high efficiency in a short time, usually 2 or 3 weeks. After the morning session, the afternoon continues in small groups (max 2-3 people) with an emphasis on conversation and comprehension of spoken French.
Conversation on a quiet terrace in a cosy morning setting
Intensive French Language Course Timings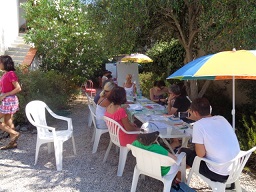 - 2, 3 or 4 weeks, 6 hrs/day - 30 lessons/week, Monday-Friday - Three experienced teachers share the group - Max. 8 students in the morning - Max. 3 students in the afternoon
Instruction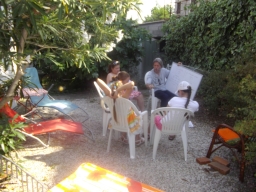 The afternoon session takes place downtown in a garden or on the terrace of our restaurant
Here, you will discuss subjects from the early morning course and discuss topics of personal interest with the teacher. A syllabus will be drawn up "à la carte" on any subject matter you need. The aim is to achieve a greater spontaneity in speech, idiom and oral expression. The entire session is devoted to spoken French.
Intensive afternoon session in the garden with three ambitious students and Pascal
If you're interested in taking part in one of our intensive French language courses for adults, please contact us here