French Intensive Adult Courses in France in Summer
Things you must remember if you want to speak French confidently in one of our intensive language courses
- There are many opportunities to speak French; you just need a bit of confidence!
- Don't let your confidence be knocked by making mistakes or struggling with the French accent
- You can learn French for fun and enjoy it as a careless hobby or more seriously, for business purposes
- It can become stressful and tiring if you set yourself a deadline
- We can all learn and improve in many areas…and learning French is no different
- Most French people speak only their native language… so you are already ahead with your ability to speak French!
- At a higher level in French, you are somehow more in control of yourself in what you say and do
- Be patient, positive and kind to yourself and admit or recognise that you are doing your best when learning French
- Tomorrow is a new day. Today's stress will melt away and a clean slate starts the day after
- You will improve when you start to put in the effort both day in and day out
- It's the consistency part in learning French that pays off and counts, so don't give up!
- Put in your efforts consistently to see progress. With progress, your confidence will improve
- Focus on the things you are good at, to boost your confidence and learn to use synonym words and adjectives
- Don't act too concerned with your level in French. Act confident and it will eventually creep up on you. It will feel great!
- Remember please, when speaking French to other people, to an audience, a good and pleasant body language is always important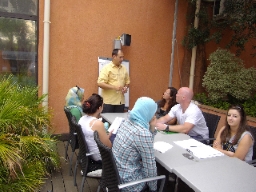 Our intensive French language courses for adults are designed for highly motivated participants and professionals. For those who want greater confidence and practice in their French-speaking proficiency. This intensive course will achieve high efficiency in a short time, usually 2 or 3 weeks. After the morning session, the afternoon continues in small groups (max 2-3 people) with an emphasis on conversation and comprehension of spoken French.
Conversation on a quiet terrace in a cosy morning setting
Intensive French Language Course Timings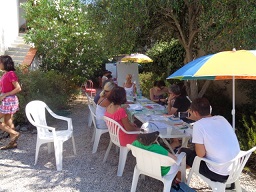 - 2, 3 or 4 weeks, 6 hrs/day - 30 lessons/week, Monday-Friday - Three experienced teachers share the group - Max. 8 students in the morning - Max. 3 students in the afternoon
Instruction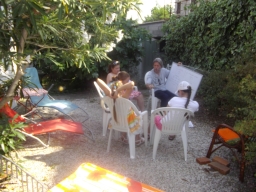 The afternoon session takes place downtown in a garden or on the terrace of our restaurant
Here, you will discuss subjects from the early morning course and discuss topics of personal interest with the teacher. A syllabus will be drawn up "à la carte" on any subject matter you need. The aim is to achieve a greater spontaneity in speech, idiom and oral expression. The entire session is devoted to spoken French.
Intensive afternoon session in the garden with three ambitious students and Pascal
If you're interested in taking part in one of our intensive French language courses for adults, please contact us here