Adult High Intensive course, 8 Hours Per Day
For those who are employed in business or by different organizations. For those who need French for their contacts in francophone countries. For those who are about to undertake an important trip abroad and need to freshen their skills in French.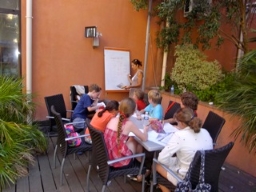 Practice exercises in writing correct sentences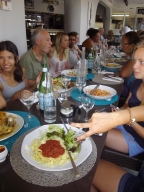 The daily lunch at La Parenthèse with a teacher in charge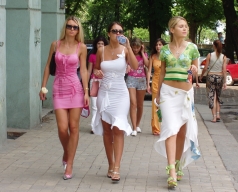 Three young ambitious students, already advanced in French, who booked their own private afternoon intensive group , on their way to the instructor.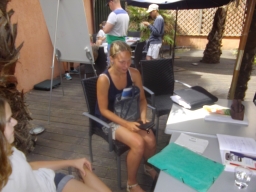 A young student from Vienna, Austria in intensive immersion session
Course
- 2, 3 or 4 weeks, 8 hrs/day - 40 lessons/week, Monday-Friday - Three different teachers each day - 10 students in the morning - 3 students in the afternoon - Private tutoring during lunch, max. 2 students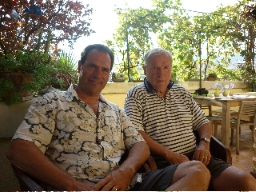 Two motivated executives on the High Intensive
Instruction
Group sizes change based on the subject matter. You will be busy from 9 a.m. until 4 p.m. The lunch session counts as tuition time since you will sit alone or with one other student at a special table with a teacher. You will be training your verbal skills according to a syllabus drawn up in advance by the alternating teachers. The meals take place at one of our three restaurants we can choose, with a two-course menu, wine and coffee that will take about 90 min.